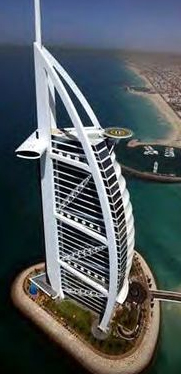 Dubai
Introduction
Type of Business
Free zones
It is an emirate within the United Arab Emirates (UAE has the largest population with second-largest land territory by area after Abu Dhabi. Its harbor is the most important port in the Middle East ranked among the world's top 10 in terms of container throughput Jebel Ali, apart from the oil industry and domestic banking, there are no income or capital taxes in Dubai, and no withholding tax.
The Government of Dubai Is Keen To Promote E-Commerce - Where it had constructed Dubai Investment Park, also known as Dubai Internet City (DIC), which has a highly developed technical infrastructure and have more than 1,400 companies established in DIC, including almost all the big names in IT Such as Microsoft, Oracle, HP, IBM, Compaq, Dell, Siemens, Canon, Logica, Sony Ericsson and Cisco, to name just a few.
Dubai is simply fascinating as its the most popular exotic destinations with a pleasant year round climate, little crime and offers a wide selection of accommodation, shopping and nightlife, adding along their construction boom with its world's tallest building, largest artificial island and future plans call for the world's largest hotel and shopping mall. Unlike some other nearby destinations, Dubai is suitable for women traveling alone and families, making it one of the most desirable destinations in the Middle East, no doubt why do investors see a good place for investing or setting up business in Dubai.
Branch of Foreign Company
Branch of Local (UAE) Company
Public Joint Stock Company/Private Stock Company
Dubai Airport Freezone
Dubai Silicon Oasis
Jebel Ali Free Zone
Dubai Multi Commodities Center
Dubai Internet City
Dubai Media City
Dubai Studio City Dubai Academic City
Dubai Knowledge Village Dubai Outsource Zone
Enpark
Intl Media Production Zone Dubai Biotech Research Park
Dubai Auto Zone
Gold and Diamond Park
Dubai Healthcare City
Dubai Intl Financial Centre
Dubai Logistics City
Dubai Maritime City
Dubai Flower Centre
Intl Humanitarian City
RAK Investment Authority
RAK Free Zone
RAK Maritime City
Ajman Free Zone (AFZ) UMM Al Quwan
Ahmed Bin Rashed Port & Free Zone
Fujairah Free Zone (FFZ),
Fujairah Creative City
Copyright by www.b2bmangtsolution.com